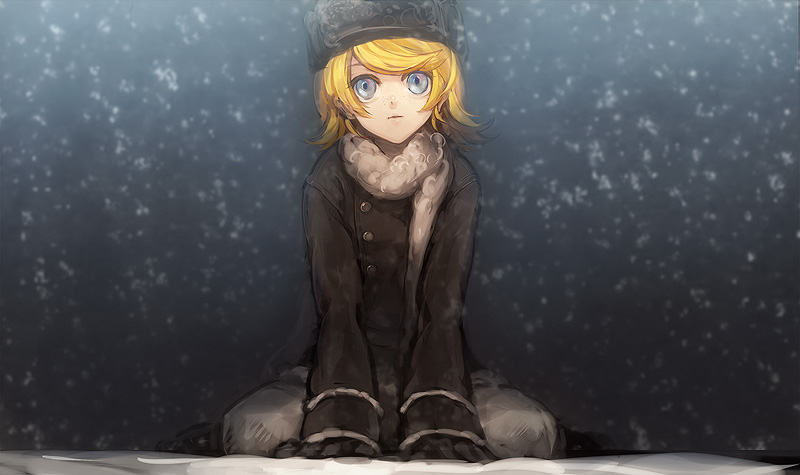 Song title
Original title:【鏡音リン】きみにさよなら★【オリジナルPV付き】


Romaji: Kimi ni Sayonara★
English: Goodbye to You★
Singer
Kagamine Rin
Producer(s)
numtack05 (music, lyrics)


Shiuka (illust, video)
NND / YT Links
Nicovideo broadcast / YouTube broadcast (with subtitles)
Sitting in the data world, Rin watches as Len faces off against Camui as occurring in "The Broken Mirror.", preparing to say goodbye as her data vanishes. Reflecting on her life, both in Russia and as a Vocaloid, Rin concludes that she's happy even though things hadn't gone exactly as she expected when she was Irina. She also declares that, despite not getting to do all she wanted, she had no regrets, although she was aching while watching Camui and Len fight.
Remembering how everything had fallen apart after getting herself rewritten, Rin reflects on how she wasn't able to always be happy by just repeating the same thing over and over. Ultimately, Rin thanks her viewers and listeners for letting her share her painful story, which she was unable to tell anyone as Irina. She also thanks Len as he defeats Camui, remarking on his different styles of wrestling. Telling her viewers to let themselves stagger as she concludes her exiting act, Rin's data is finally erased and her eyes turn white as tears go down her cheeks, saying that it was fine.
タメイキしか出ないよ
贅沢?わかってる
イリーナの夢とは少し違っていたけど。。

思い通りにいかないね!
記憶戻されなければきっと
君ともう少し遊んでいられたのにね

ドキドキすることもあったし
ムカつく時もあったよ
幸せ何回も感じた
笑顔でさよなら★

この気持ちで消えれるなら嬉しいにゃ!
きっとあたし、今キュートな笑顔ね
あの時よりも清々しい気持ちだにゃ
勝てなくてもいいにゃ★

あたしだけがプーチンの片腕になれると
そう思ってたよ
でも気付いた 利用されてる
あたしは夢見ていただけ

覚めたら

見たことないような世界を
誰かと見たいって願った
そんな気持ちはあたしを見てる
アイツにわかって欲しかった、、、なんてねw

後悔してなんか無いのに
ここで見てると疼くんだ

フラフラしてないで 今日だけは二人でサンデー

この世界で 自分を書き換えさせて
うp主使って自分をだまさせて
「敵、アメリカ。プーチンの片腕として
 今日も仲間と戦ってます。」

何もないボーカロイド、羨んだ
あの頃に思い描いた世界を
手にした「書き換えられたあたし」は
とても無邪気でクールだった
でも

記憶と共に貧弱なあたしにもどった
「これが運命だ」
あたしの器がささやいた

「これでいいの、だからお願い、
 もう少しだけあたしでいて!」
あたしの願いは届いた
最後までありがとうボーカロイド

本当はね
幸せが
ずっと、ずっと
続けばね
いいと思ってた
でもそれはありえない

そう 繰り返した幸せは
次には色あせ
だからね
時間は
走るんだよ
腐らせない様に

あたしここで 沢山見たわ
あたしのストーリーの続きを
ここから先、それはまた夢
気持ち良く消えてくの★

さ よ な ら
話を観てくれたリスナー
ボーカロイドできました!
ロシアのころ あたしの気持ち
誰にも話せず 苦しかったけれど
今はみんながいるありがとう
本当は生きて会えればね
フラフラしちゃうよ
忘れられたくないよ

最後にレンにもありがとう
コブラツイストじゃないけど
原爆固め クールな技にゃ★
プロレススタイル あたしと違うのね!
クラクラさせないで 苦しいよ
ナメクジなのに 生意気ね!
フラフラしててよね
あたしの出る幕どこにもないじゃない!

(ダガ、コレデイイ・・・)

dameiki shika denai yo
zeitaku? wakatteru
iri-na no yume towa sukoshi chigatteita kedo..

omoi toori ni ikanai ne!
kioku modosarena kereba kitto
kimi to mou sukoshi asonde irareta no ni ne

dokidoki suru koto mo attashi
muka tsuku toki mo atta yo
shiawase nankai mo kanjita
egao de sayonara

kono kimochi de kiererunara ureshii nya!
kitto atashi, ima KYU-TO na egao ne
ano toki yori sugasugashii kimochi da nya
kate nakute mo ii nya

atashi dake ga pu-chin no kataude ni nareru to
sou omotte tayo
demo kitsuita riyou sareteru
atashi wa yume miteita dake

sametara

mita kotonai youna sekai wo
dareka to mitaitte negatta
sonna kimochi wa atashi wo miteru
AITSU ni wakatte hoshikatta,,,nante ne w

koukai shite nanka nai no ni
koko de miteru to uzukunda

furafura shitenai de kyou dake wa futari de SANDE-

kono sekai de jibun wo kaki kaesasete
uP (pu-) neshi tsukatte jibun wo damasasete
[teki, AMERIKA. pu-chin no kataude toshite
kyou mo nakamo to tatakattemasu.]

nanimo nai VOCALOID, urayanda
anogoro ni omoi egaita sekai wo
te ni shita [kaki kaerareta atashi] wa
totemo mujaki de ku-ru datta
demo

kioku to tomoni hinjaku na atashi ni modotta
[kore ga unmei da]
atashi no utsuwa ga sasayaita

[kore de ii no, dakara onegai,
mou sukoshi dake atashi de ite!]
atashi no negai wa todoke ita
saigo mo de arigatou VOCALOID

hontou wa ne
shiawase ga
zutto, zutto
tsuzukeba ne
ii to omotteta
demo sore wa arienai

sou kurikaeshita shiawase wa
tsugi ni wa iroase
dakara ne
jikan wa
hashirunda yo
kusarasenai you ni

atashi koko de takusan mitawa
atashi no SUTO-RI no tsuzuki wo
koko kara saki, sore wa mata yume
kimochi yoku kietekuno

sayonara
hanashi wo mite kureta risuna-
VOCALOID dekimashita!
ROSHIA no koro atashi no kimochi
dare ni mo hanasezu kurushikatta keredo
ima wa minna ga iru arigatou
hontou wa ikite aereba ne
furafura shichau no
wasureraretakunai yo

saigo ni REN nimo arigatou
kobura-tsuisuto jyanai kedo
genbaku katame ku-ru na waza nya
puroresu-sutairu atashi to chigau no ne!
kurakura sasenai de kurushii yo
namekuji na no ni namaiki ne!
furafura shite te yone
atashi no deru maku doko ni monai jyanai!

(daga, kore de ii...)

Only a sigh comes out
A luxury? I know
It was a little different from Irina's dream, but..

I don't go as I like!
If my memories didn't return, surely
I could have played with you just a bit more

There were things that made my heart pound
There were times I was upset
And time and time again I felt happy
Farewell, with a smile★

If I disappear feeling this way I'll be happy, mew!
I'm sure I have a cute smile now
It's a more refreshing feeling than back then, mew
I don't have to win, mew★

I alone could become Putin's right hand woman
That's what I thought
But I realized I was being used
I was only dreaming

If I wake up

This world like nothing I've seen
I wanted to see it with someone
That feeling, he who's looking at me
I wanted him to understand,,, just kidding lol

Although there's nothing I regret
Looking from here makes me ache

Don't stagger; just for today, it's our Sunday

In this world I made myself get rewritten
Using the uploader I deceived myself
"The enemy, America. As Putin's right hand woman
I'm fighting with friends today too."

The nothing-VOCALOID had envied
The world I imagined in those days
The "rewritten me" I had obtained
Was very innocent and cool
But

Along with my memories, I returned to the meager me
"This is fate"
My vessel whispered

"This is good, so please,
Let me be me just a bit more!"
My wish got through
Until the end, thank you VOCALOID!

The truth is
If my happiness
Always, always
Continued on
I thought it'd be fine
But that's impossible

Yes, repeated happiness
Fades the next time
So
Time
Runs on
So that it won't go bad

I saw a lot here
The continuation of my story
From here on out, the dream will again
Disappear, feeling good★

Farewell

The listeners who watched this story
Came with VOCALOID!
Those days in Russia, my feelings
I couldn't tell to anyone, it was painful but
Everyone's here now, thank you
If I really live to see you
I'll stagger so much
I don't want it to be forgotten

Finally, thank you to Len
That's not the Cobra Twist, but
The Atomic Suplex Hold is a cool technique, mew★
Your pro-wrestling style is different from mine!
It's painful if you don't let yourself get dizzy
For a slug you're pretty cheeky, huh!
Let yourself stagger
My exiting act is nowhere isn't it!

(But, this is fine...)

English Translation by Pricechecktranslations
Key Phrases
Edit
『イリーナの夢とは少し違っていたけど。。』 It was a little different from Irina's dream but
『にゃ 』 Nya
『あたしだけがプーチンの片腕になれると 』 I can become Putin's right hand woman
『あたしは夢見ていただけ』 I was only dreaming
『誰かと見たいって願った 』 I wanted to see it with someone
『フラフラしてないで 今日だけは二人でサンデー』 Don't stagger, just for today is our Sunday
『「敵、アメリカ。プーチンの片腕として 今日も仲間と戦ってます。」』 The enemy, America. As Putin's right hand woman, today I fought with friends
『この世界で 自分を書き換えさせて』I let myself be rewritten
『時間は 走るんだよ』 Time runs on
『話を観てくれたリスナー 』 The listeners who watched the story
『フラフラしちゃうよ 忘れられたくないよ』I'll stagger so much, I don't want it to be forgotten
Illustration Analysis
Edit
The opening illustration is of Rin "sleeping" in the real world, as the camera zooms to her to go into her "mind". In the data world, Rin is shown looking up with red eyes, as a continuation of how she was red-eyed in "The Broken Mirror.". Multiple illustrations from other PVs are shown as reflections of her memories, as well as illustrations from the Putin-P album booklets. Interestingly, the Red Rin illustration from the first album is superimposed over Putin when she flashes back to Irina's devotion to him, although Red Rin supposedly became an entity after Irina died. Following this flashback, which ends on the curled up Irina, Rin's eyes become blue. 
An illustration is later shown as Rin speaks about wanting to convey her feelings to a boy, one which shows Irina and her human comrade holding hands while Elena stands in the background. On closer inspection, both Irina and her comrade appear to be pointing knives at each other, while another child with a knife is in the background. This may indicate Irina's complicated feelings for her former comrade before he killed her dog, or reference Rin's own old habit of threatening Len with a knife.
Of note is that the child in the background is wearing the exact same clothes as the Ronalds during Stealing is Wrong?, indicating that perhaps the Ronalds were Irina's own comrades, merely represented as Ronald McDonald at the time while they taunted the dying dog. Also during these stanzas, a brief shot of Len and Camui is shown to indicate Rin watching their fight. 
Multiple pictures are used to illustrate Rin's flashbacks, such as a picture of Ronald to represent the America Irina had to fight, a picture of Hatsune Miku's boxart--this design never used in the series previous--to signify the Miku of the series, and another album art of Rin facing Irina to signify Irina's change into a new individual. As the song reaches its ending segment an image of Rin's boxart is shown, harkening back to the first part of the series. A collage of Putin-P's video uploads are also shown near the end to symbolize Rin's story that she conveyed to the world, likely meaning that the uploads were done in-universe as well as out.
After they fade away, the shot of Len performing the Atomic Suplex Hold from "The Broken Mirror." is shown as Rin praises him on his finishing move. Finally, after Rin's eyes turn red for a second time, they fade out to blank as she cries. The blank eyes, in light of the final song, indicate how her data as Irina has been erased.
Sound Effect Analysis
Edit
The video has accompanying some of its instrumentals static fizzing and hissing at certain points, as the song makes a transition from Rin's reassurances of having no regrets to her flashback of being rewritten as a Vocaloid. Similarly, when Rin transitions to her flashback of receiving her memories again the sound of glass breaking accompanies the simulation of breaking glass on the screen, as her happy days as Rin are "shattered" by returning to her old self; fizzing is also heard initially in the transition. The final noise clip at the end of the song is clown-like laughter. This may be because of the next song being announced, "With the You I Can't See.", which features Ronald and Miku's relationship. 
Through the PV the sitting Rin's eyes change from red, to blue, to finally a blank white.
One of the tags on Nico Nico Douga for the video is 『忘れないよ!』 (Don't forget!)
Multiple illustrations in the PV are taken from the series' album booklets.
Curiosities
Edit
It's unknown who the "friends" are that Irina fought as Putin's right-hand woman.
The illustration shown when Rin speaks of her old desire to be Putin's right-hand woman is one of Red Rin with a machine gun hanging over her shoulder.
External Links
Edit
---